IPL 2019 Live Score Today Match, KXIP vs RR IPL Live Cricket Match Score Streaming Online: Kings XI Punjab are looking to avoid a hat-trick of defeats while Rajasthan Royals are looking to build on their second win of the season in their previous match.
23:33 (IST)16 Apr 2019
KXIP need 23 to win off 6
And Binny has scored 23 off 6 so far. He has gone ballistic and RR must be thinking why he wasn't sent out earlier. But Binny is off strike, Shami is bowling the last over.
23:25 (IST)16 Apr 2019
18 overs gone
It is all down to captain Rahane now. He has Stuart Binny at the other end to give him company, who does know how to swing a bat. He has 10 First Class hundreds to his name, but if RR have to win this game, Rahane has to take the lead.
23:15 (IST)16 Apr 2019
OUT!
Golden duck on debut for Ashton Turner. He did face a wide delivery before this. Murugan Ashwin baits him with a slow tossed up legbreak and Turner bites. Hit hits the ball straight to long off.
23:14 (IST)16 Apr 2019
WICKET! And Tripathi falls
He holes out at long off and Ashwin punches the air. This is an inspired performance from the KXIP captain.
23:11 (IST)16 Apr 2019
50 for Tripathi
He almost got stumped on 49. Tripathi charged down the track and Ashwin slid the ball wide. Tripathi could not reach it and Pooran took the bails off, Tripathi dove back managed to make his ground.
22:51 (IST)16 Apr 2019
OUT! And Ashwin does strike!
Sanju Samson absolutely bamboozled there. Ashwin puts it on the off side, Samson goes for the sweep but the ball skids past him and hits the off stump.
22:41 (IST)16 Apr 2019
9 overs gone
Sanju Samson and Rahul Tripathi keepings things floating for the Royals. They need 98 to win from 66 balls.
22:26 (IST)16 Apr 2019
OUT! Buttler goes
Arshdeep Singh's first wicket is none other than Jos Buttler but credit for this wicket goes entirely to Nicholas Pooran. Buttler gets a leading edge that balloons high up in the air, Pooran runs back and dives to pouch it. 
22:19 (IST)16 Apr 2019
our overs gone
A good start for the Royals and Buttler has powered it. He has scored 23 off 18 balls and Tripathi is on 8 off 8.
22:02 (IST)16 Apr 2019
The players are back
Rahul Tripathi is Jos Buttler's opening partner today, not Ajinkya Rahane. 20-year-old Arshdeep Singh, who looks like he bunked school to play this match, is bowling the first over.
21:46 (IST)16 Apr 2019
A big finish by skipper Ashwin
RR's good work in the death overs have been undone somewhat by Ashwin's belligerence. He lets the penultimate ball fly over midwicket an then scoops the last and KXIP set up a total of 182/6.
21:40 (IST)16 Apr 2019
What an over from Archer
Archer's 19th over has been devastating for KXIP. Two wickets and three runs from it. The first wicket is off the second ball as Pooran holes out at covers. The second comes off the last as Mandeep Singh chops a short delivery on.
21:30 (IST)16 Apr 2019
WICKET! Rahul falls
Unadkar roars in delight. He has been taken to all corners of the park by the batsmen today so this is a welcome wicket indeed. A yorker outside off that Rahul squirts fine and it travels striaght to short third man. Stunned silence around the ground as a very good innings comes to an end.
21:06 (IST)16 Apr 2019
SIX!
KL Rahul smashes a short delivery from Sodhi about 20 rows into the stands. KXIP have moved into three figures and this is a good partnership building between Rahul and David Miller.
20:58 (IST)16 Apr 2019
A milestone for Rahul
With a single off Shreyas Gopal, KL Rahul has now scored 1000 runs for Kings XI Punjab.
20:51 (IST)16 Apr 2019
10 overs gone
We hare halfway through the innings and KL Rahul has scored 13 off 23 balls. It is a good foundation that has been built but Rahul performance will be judged by whether he can get going after this or not. If he succumbs, his innings would turn out to a colossal waste of deliveries.
20:43 (IST)16 Apr 2019
WICKET! AND AGARWAL LEAVES
He gets down on one knee to Ish Sodhi, looks for a slog sweep and ends up getting the all high up in the air. But there is not enough distance on the shot. The ball goes really high though and Joffra Archer does well to keep an eye on it all the way despite all the lights and hold on to it. You just can't keep him out of the game, can you?
20:38 (IST)16 Apr 2019
Agarwal arrives, sees and conquers
KL Rahul has faced 17 balls and scored 6 runs while Mayank Agarwal has raced to 23 off 9. The third ball he faced was lofted straight over the bowler's head and he has since since hit one more maximum and a four. 
20:28 (IST)16 Apr 2019
OUT! Archer gets Gayle
It's that man Joffra Archer again with the big wicket. Length delivery that squares up Gayle, takes an outside edge and flies straight into the keeper's hands. 
20:21 (IST)16 Apr 2019
Four overs gone
Archer finished off a scorcher of an over off which only two runs came. KXIP are 21/0 and Ashwin will be more worried with each passing over that Gayle or Rahul survive.
20:13 (IST)16 Apr 2019
CONSECUTIVE SIXES!
Chris Gayle is up and running. The first shot came off the fourth ball of the second over bowled by Jaydev Unadkat, Gayle was caught inside the crease and his pull wasn't timed well. The ball balloons up in the air and just beats Joffra Archer at deep square. The second one required no such good fortune though, it was dismissively thumped into the stands behind long on.
20:02 (IST)16 Apr 2019
The players are out
Chris Gayle and KL Rahul open the batting for KXIP, Dhawal Kulkarni has the ball in his hand. Here we go!
19:48 (IST)16 Apr 2019
He is a legend isn't he.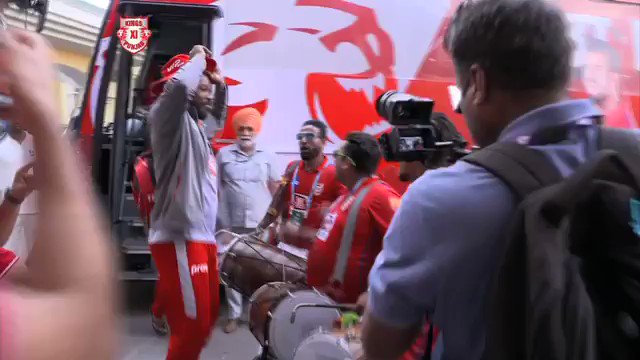 19:42 (IST)16 Apr 2019
Kings XI Punjab
KL Rahul, Chris Gayle, Mayank Agarwal, David Miller, Nicholas Pooran, Mandeep Singh, R Ashwin (capt), Mohammed Shami, M Ashwin, Mujeeb Ur Rahman, Arshdeep Singh
19:42 (IST)16 Apr 2019
Rajasthan Royals
Ajinkya Rahane (capt), Jos Buttler, Sanju Samson, Rahul Tripathi, Ashton Turner, Stuart Binny, Jofra Archer, Shreyas Gopal, Jaydev Unadkat, Dhawal Kulkarni, Ish Sodhi
19:41 (IST)16 Apr 2019
Ashton Turner
Indian fans watching this game won't remember him too fondly. A month ago, on this very ground, Turner had launched a stunning assault on the Indian bowling attack and no one, not even Bhuvneshwar Kumar or Jasprit Bumrah, could lay a hand on him as he led Australia to a 4-wicket win over India.
19:34 (IST)16 Apr 2019
RR win the toss, choose to field…
…as teams winning the toss in this tournament always do. Ashton Turner is making his IPL debut, says Ajinkya Rahane. Stuart Binny is also back and Ish Sodhi will be playing. No Steve Smith.
19:15 (IST)16 Apr 2019
Hello and welcome!
Stopping Jos Buttler. This has been something that teams in the IPL have pondered over for two seasons now. Ravichandran Ashwin found a way of doing it last season and that led to David Warner craning his back to ensure that he remains within the crease before Ashwin bowls a delivery. Buttler's form has decided how RR perform for two seasons because without him, and Joffra Archer to a certain extent, what RR have got is a team of underperforming players who can be pretty good and who have shown flashes of brilliance here and there, but never got into full flow playing for the franchise.
IPL 2019, KXIP vs RR Live Cricket Match Score Online:
Kings XI Punjab: Lokesh Rahul, Chris Gayle, Mayank Agarwal, Sarfaraz Khan, Mandeep Singh, Nicholas Pooran(w), Sam Curran, Ravichandran Ashwin(c), Andrew Tye, Mohammed Shami, Murugan Ashwin, Karun Nair, David Miller, Simran Singh, Mujeeb Ur Rahman, Ankit Rajpoot, Hardus Viljoen, Arshdeep Singh, Moises Henriques, Varun Chakravarthy, Darshan Nalkande, Agnivesh Ayachi, Harpreet Brar.
Rajasthan Royals: Ajinkya Rahane(c), Jos Buttler, Sanju Samson(w), Steven Smith, Rahul Tripathi, Liam Livingstone, Shreyas Gopal, Krishnappa Gowtham, Jofra Archer, Jaydev Unadkat, Dhawal Kulkarni, Prashant Chopra, Ben Stokes, Manan Vohra, Aryaman Birla, Stuart Binny, Shashank Singh, Shubham Ranjane, Ashton Turner, Riyan Parag, Mahipal Lomror, Ish Sodhi, Varun Aaron, Oshane Thomas, Sudhesan Midhun.